Articles
September
October
November
December
January
February
March
April
May
June
6 Ways to Celebrate Black History Month with Your Family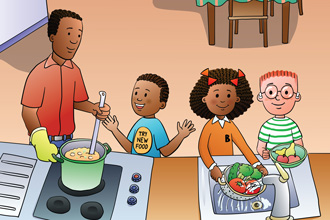 African American History Month (A.K.A. Black History Month) happens every February in the United States. This is a great reminder to think about Black history and heritage and how it has shaped the United States and world into what it is today.
Black history is in our country's history, music, food, art, science, technology, culture, and so much more. It is important for us to use this month (and the rest of the year!) to learn about Black American achievements and how they've shaped the world we live in today.
Here are six ways you can celebrate Black History Month at home:
Dance to some music. Here's a playlist that guides you through Black artists over the years.
Cook and eat together with these African American-style recipes.
Learn about African American achievements by looking exploring Black heroes and scientists.
Explore and uncover the stories behind black artists and artwork.
Lastly and most importantly, remember to prioritize celebrating black history with your family. By making the time to connect and celebrate the stories around you, you are teaching your child to make the world a better place.